THE ARTIST BEHIND
Originating from the scenic landscapes of the Black Forest region in Germany, freaky-Deek is known as an artist propelled by an innate passion for artistic exploration. Intertwining the corporeal nature of sculpting with digital storytelling, his work challenges his viewers to reconsider the boundaries of perception, engage with their own emotions, and embark on a transformative path of self-awareness.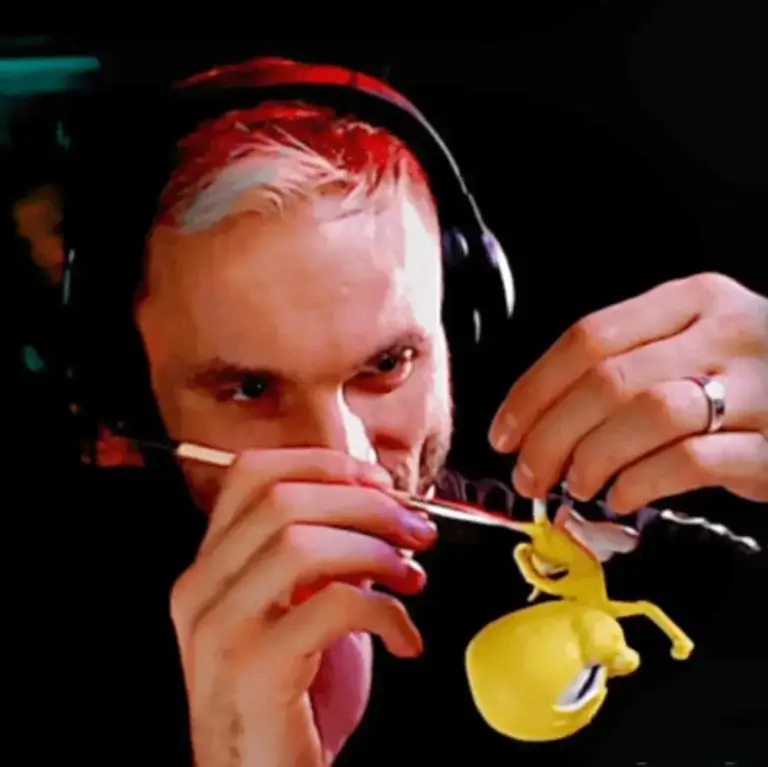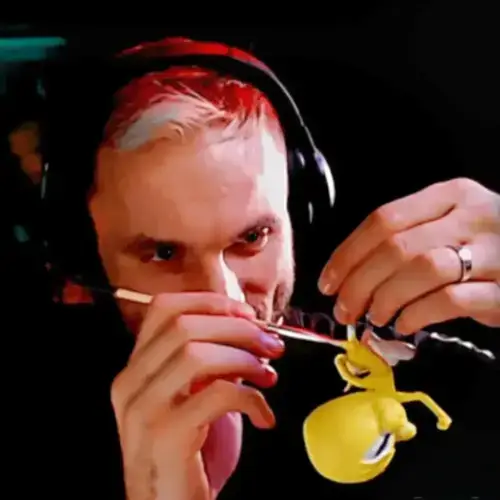 From a young age, freaky-Deek was exposed to a multitude of art forms such as art, music and films that kindled his appreciation for creative expression. This early exposure ignited his fascination with figurines, prompting him to curate an extensive collection. However, it was his yearning to bring his own original characters to life that set him on a new trajectory. Reflecting upon his career within the confines of a corporate environment, he questioned the true essence of his repetitive tasks and the relentless pursuit of efficiency. Dissatisfied with a monotonous existence spent tethered to a keyboard, he made the decision to embrace his artistic instincts and venture into uncharted territory.
The Physical Approach to Visual Art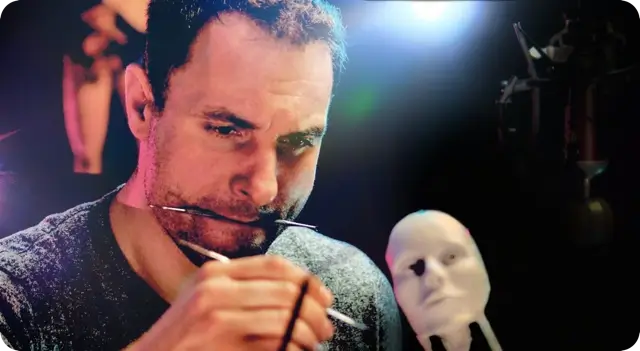 The materials he employs are as diverse as the narratives they encapsulate. Polymer clay, metal pipes, aluminum foil, and electronics — are only a few of the ingredients that make up his work. His sculptures, often created at a 1:2 ratio, stand out due to their size and the immense challenge of working with polymer clay at such a scale. Yet, it is the marriage of sculpture and videography that sets his creations apart.
The Filmic Approach to Physical Art
Long before the physical process begins, a cinematic vision unfolds within his mind's eye. Like a director on set, he meticulously choreographs his work. Scenes flicker, lighting weaves its tapestry, and a carefully curated soundtrack tugs at your imagination. Each sculpture becomes a vessel for a brief yet profound visual tale. Utilizing only essential color grading and editing techniques, he converts each video into a sensory treat, devoid of excessive digital manipulation.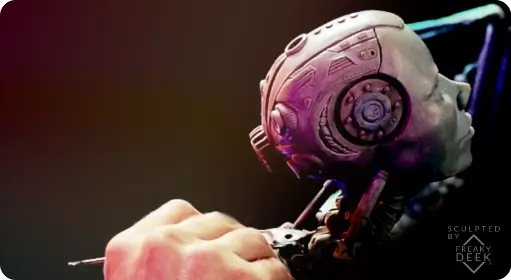 freaky-Deek's art is an invitation to embark on a journey of discovery, where craftsmanship meets innovation, and where the power of visual storytelling evokes a profound connection with the human experience. Rejecting the notion of "work smarter, not harder," he believes in the importance of craftsmanship and the enduring value of traditional methods. Commenting on a highly industrialized world that demands greater efficiency he hopes to create a counter movement of handmade products by posing you, the viewer, with a thought-provoking question: who is the machine here?
In a world driven by automation, freaky-Deek's art stands as a testament to the human touch. Collected and exhibited worldwide, freaky-Deek's work is most easily accessible through his growing online community. Stay in touch with the latest updates on platforms such as Twitter, Youtube and Instagram as well as live streams on Twitch where you can be part of the unfolding
narrative of his artistic evolution. Join him on his journey today and watch him as he continues to challenge the boundaries of art in the modern world. The time is now to embrace its transformative potential.
"His work mainly focuses on the predicament within a more and more artificial world" 
Discover the Project AD-01 models